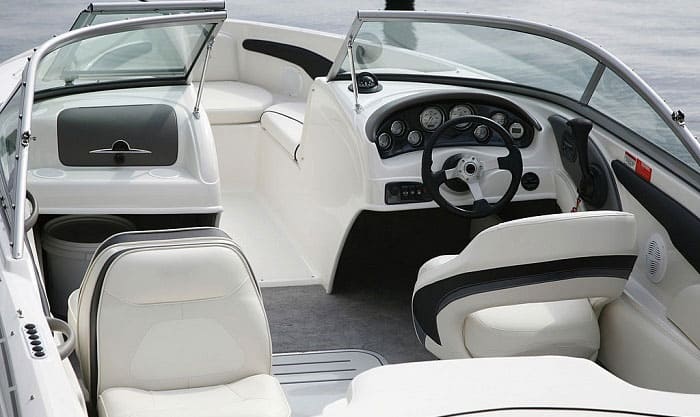 Are your white vinyl boat seats turning yellowish, making them look dingy? You can restore their pristine condition if you know how to clean white vinyl boat seats and keep them protected for extended periods. There is no better way to head out on a spring and summer water adventure than in a clean-looking boat.
This article is for you if you want to make your boat's vinyl surfaces as clean and pristine-looking as possible. I prepared three easy-to-follow solutions for cleaning white vinyl boat seats. Let us start.
Things You Need for This Guide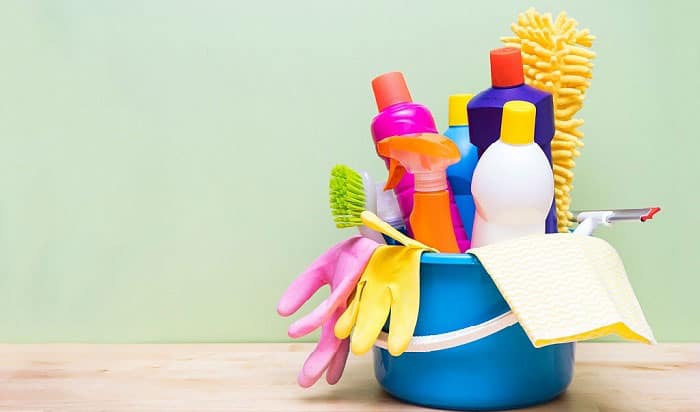 Cleaning your boat's white vinyl seats requires the following tools and materials.
1. Vinyl-safe Cleaner
A safe and effective cleaner for white vinyl boat seats is necessary for this project. Pick one that can remove stains, spots, molds, and mildew.
Most people choose commercially-available cleaners because they are more convenient to use. Unfortunately, some products contain harsh chemicals that might damage vinyl materials. It would be best to avoid products with solvents, concentrated detergents, bleach, and waxes.
Other boat owners prefer homemade cleaning agents, such as soapy water, baking soda, and white vinegar. Regardless of which ingredient you want to use in cleaning vinyl upholstery, it would be best to observe the recommended ratio.
2. Other Cleaning Materials
If you do not wish to handle chemicals in cleaning vinyl boat upholstery, it would be wise to get a good quality steam cleaner with the correct cleaning attachments. You will also need a soft-bristled brush and clean pieces of microfiber cloth. A vacuum cleaner can also be handy.
To protect vinyl seats, I recommend using a UV protectant after cleaning. You can purchase a market product or make your own using baby oil, water, and dish soap.
Cleaning With Commercial Stain Remover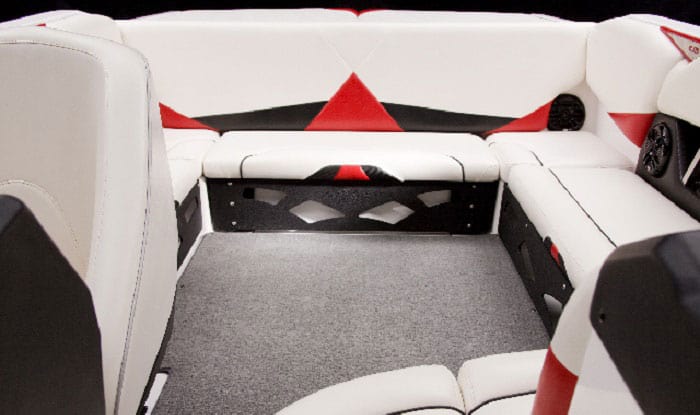 This process is perfect for removing stubborn spots and molds on your white vinyl boat seats.
Step 1. Wipe the vinyl boat surface
I recommend cleaning white vinyl seats of dust before using a cleaning solution. You can use a soft brush to dust off the chairs and wipe them with a clean microfiber cloth.
You will not want particles such as dust and dirt on the chair's surface during cleaning. Scrubbing these objects against the surface might scratch or damage your vinyl seat.
Step 2. Apply the stain remover and scrub the surface
Next, you can spritz a small amount of stain remover or white vinyl cleaner on the vinyl surface and leave it for about five minutes. Letting the solution sit will help its active ingredients lift the stain molecules off the material.
Get a soft-bristled brush and gently scrub the surface. If you waited long enough, you should have no problems removing mold and stains from the white vinyl seat.
Step 3. Wipe the cleaner off
Get the microfiber cloth and carefully wipe the dirt and debris from the white vinyl surface. Avoid applying too much pressure to prevent scratching the material.
These particles are remnants of the stains and molds the cleaner removed. Unfortunately, some of them do not cling to the scrubber. They fall instead onto the seat surface.
Ensure to wipe every seam, nook, and cranny of the vinyl boat seat.
Begin Boating has an excellent video on cleaning vinyl boat seats I believe you should check out.
Step 4. Apply a UV protector
Now that you have clean white vinyl boat seats, it would also be best to protect them against the sun's UV rays to prevent discoloration, cracks, and other issues.
Look at your UV protector and read its application instructions. Most products require spraying the surface with the UV protector before wiping the solution from the seat. Others allow you to moisten a microfiber cloth with the product and use this to apply on the surface.
Cleaning With Homemade Solutions
If you prefer to clean white vinyl upholstery with natural products, this method is for you. The procedure is similar to the one I described above. However, it requires a few extra steps.
Step 1. Prepare your preferred homemade cleaning solution
There are three vinyl upholstery cleaning solutions you can make at home: baking soda, vinegar, and soapy water. Let us examine each cleaning agent's preparation.
Baking soda is a versatile item in modern households. Not only is it a versatile cleaner, but baking soda also serves other purposes beyond keeping the house tidy and fresh.
To make a vinyl boat upholstery cleaner with baking soda, combine sufficient amounts of baking soda, dishwashing soap, and water to produce a paste. It would be best to start with the baking soda and dish soap before adding water, allowing you to adjust the amounts to get a thick and pasty consistency.
Cleaning vinyl seats with vinegar is another popular option among boat owners, requiring a 2:1 dilution ratio (two parts water and one part white vinegar). Some people like to add a tablespoon or two of liquid dish soap.
Distilled white vinegar also has antimicrobial properties, killing some bacteria, yeast, and fungal species, as well as viral strains. You can imagine what it can do to those invisible occupants on your white vinyl boat upholstery.
A soapy water solution is sufficient for most people to get stains out of vinyl boat seats. It is practical and frees users from the smell of vinegar.
The US Centers for Disease Control and Prevention says that making soapy water involves mixing 20 liters of water (about five gallons) and five tablespoons of powdered soap. To simplify, you can stir a tablespoon of powdered soap into 1 gal. of water.
Step 2. Follow Steps 1 and 2 in cleaning vinyl upholstery with a commercial solution
Once ready with your chosen homemade cleaner, remove any surface contaminants on the white vinyl boat upholstery. Wipe it off with a piece of cloth before applying the solution.
It would be best to apply a generous amount of the homemade cleaner across the vinyl material and leave it for five to ten minutes before wiping. You may need to scrub the vinyl so the dirt and particles will cling to the cleaner.
Step 3. Prepare a homemade UV protectant
I found an interesting article about a homemade UV protectant for vinyl materials. This solution is perfect if you want to go all-out with your all-natural vinyl seat cleaning project.
Get a small dish and pour a cup of unscented baby oil. Add two to three drops of liquid dish soap and a third of a cup of filtered water. Stir the mixture to combine the ingredients as much as possible (although you can never pair oil with water). Place the agent into an empty spray container.
Step 4. Apply the UV protectant
Spritz the homemade UV protectant on your white vinyl boat upholstery and distribute it over the surface with a microfiber cloth. Ensure to shake the bottle before spraying to mix the different ingredients.
Although its effects do not last as long as commercially available UV protectants, three to four weeks is enough until the next vinyl cleaning activity.
Cleaning With Steam
In addition to the previous methods, you can use a steam cleaner.
Step 1. Follow Steps 1 and 2 in cleaning white vinyl boat upholstery
You can use a vacuum cleaner with the correct attachments to remove as much dirt, dust, and other particles from the seat. A small broom or feather duster can also come in handy.
Step 2. Prepare the steam cleaner
Read the manual for directions on operating the steam cleaner, including which attachment to use in cleaning vinyl upholstery.
Do not forget to fill the steam cleaner tank with clean water before plugging and turning on the appliance. You might want to wait a few minutes to let the machine produce steam before using it.
Step 3. Apply steam onto the white vinyl boat seats
Set the steam cleaner at the lowest possible setting before you start passing the steam nozzle over the vinyl upholstery. Setting it at the highest possible level might damage your vinyl seats.
Be deliberate in your steam cleaning, avoiding exposing any vinyl part to heat for too long. Doing so might ruin a good vinyl boat upholstery.
Conclusion
You now know how to clean white vinyl boat seats in three ways: using a commercially available cleaner, homemade solutions, and steam cleaning. Which of these methods do you think is best suited for your boat? Do you believe your friends will appreciate you sharing this tutorial with them, too?
Send me your thoughts about this guide, and I will answer any questions or issues you might have. After all, we all want our boats to look as pristine as the first time we used them.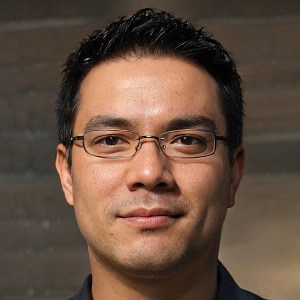 Ten years of enjoying countless trips on boats never made me love them any less! So I am here to put all those experiences into good use for other boaters who want to have a safe and fun trip with their friends and families.