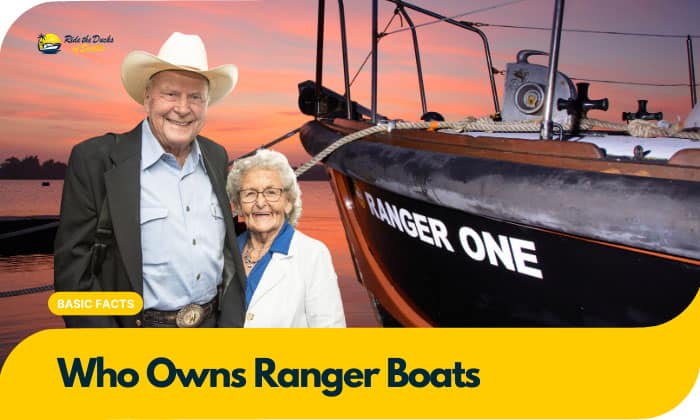 Bass fishing folks worth their salt know that Forrest L. Wood is the "Father of Modern Bass Boats," giving the fishing world the Ranger brand. But do you know who owns Ranger Boats now? Although Bass Pro Group LLC now owns Ranger Boats, the brand remains as formidable as it was more than half a century ago.
Please continue reading to learn more about the colorful Ranger Boats history.
Ranger Boats: Early Beginnings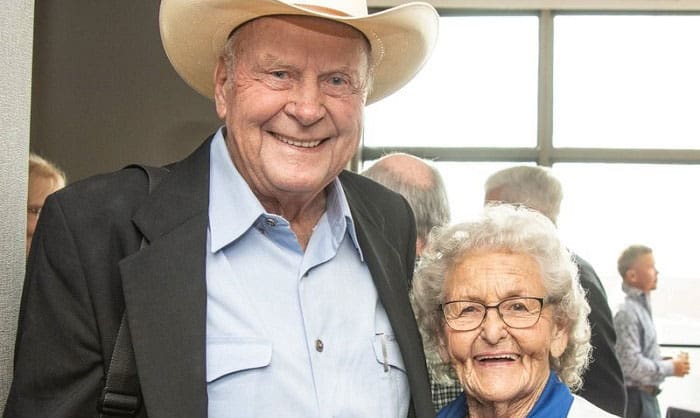 In 2018, Ranger Boats celebrated its 50th founding anniversary. Although Forrest and Nina Wood only started with six boats in 1968, the brand has become synonymous with high-quality, high-performance, and truly innovative bass fishing boats.
Established in Flippin, Arkansas, Ranger Boats derived its brand name from the US Army Rangers and the Texas Rangers.
Although the bass fishing world dubs Ranger Boats' founder the "Father of Modern Bass Boats", some might argue that distinction should belong to Holmes Thurmond of Skeeter Boats. After all, it was Thurmond's unique hull design that revolutionized the watercraft for bass fishing in 1948.
Thurmond's boat rode smoothly and quickly while maintaining stability across different water environments. It had a long, pointed bow (like a mosquito's proboscis), and could outmaneuver and outpace the flat-bottomed jon boats of the era.
However, professional bass anglers and competitive fisher folk always allude to Wood as the modern bass boat's "father figure."
And why not? Ranger Boats did not only design and manufacture bass boats with specs that competitors can only dream of. The brand also helped revolutionize flotation standards the US Coast Guard now observes.
Anglers and bass fishers also love Ranger Boats' aerated livewell technology, allowing fisherfolk to keep their catch alive until release during tournaments.
The 1970s saw Ranger Boats soar in the market, despite having the company's Flippin, Arkansas plant razed by fire on May 4, 1971.
The brand started with six boats in 1968 and built at least 600 boats in 1969 after moving their production to a vacant nightclub.
In the mid-70s, the brand expanded its boat designs to include watercraft for fishing salmon and walleye.
Today, Ranger Boats continue to dominate the world of bass fishing boats, with at least 40 models.
For example, its Z-Comanche Series Ranger Boat specifications include a foam-filled hull, pultruded fiberglass transom, and one-piece-feel Interloc construction.
The brand is also a principal sponsor of the Fishing League Worldwide (FLW), a competition of the world's best anglers. The champion angler receives the Forrest Wood Cup.
Change of Hands
Forrest L. Wood sold Ranger Boats to Dallas, Texas-based company Thompson Co. in 1987. The brand went through two more owner changes soon after, once in 1991 and another time in 2010 (acquired by Genmar Holdings and then by Platinum Equity).
Platinum Equity's Fishing Holdings LLC provided Ranger Boats with the necessary support and resources for evolution and continuous growth while respecting the brand's deep roots in fishing and heritage.
In 2014, Wood reunited with his bass fishing buddy, fellow businessman, and conservationist, Bass Pro Group LLC's CEO Johnny Morris, paving the way for the latter's acquisition of Ranger Boats from Fishing Holdings LLC.
You might even be fortunate enough to find pictures of Wood and Morris at the first National BASS tournament.
So, who makes Ranger Boats today?
Although Bass Pro Group LLC bought the brand from Platinum Equity LLC's Fishing Holdings in December 2014, the latter will continue manufacturing Ranger boats at the same address as the original Ranger Boats.
Ranger Boats Products
Ranger Boats continues to deliver high-quality, high-performance boats in the way its founders envisioned in 1968. It has four boat classifications across bass, fish 'n' play, pontoon, waterfowl utility, saltwater, and multi-species boat segments.
1. Fiberglass Boats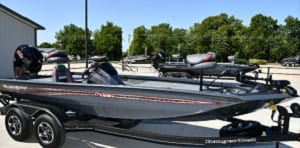 Ranger Boats has three fiberglass-type boat categories – bass, deep V, and fish 'n' play. Its performance-driven and industry-leading Z-Comanche, Z500, and Z100 Series fiberglass bass vessels can leave the likes of Vexus Boats in the wake.
Fiberglass Ranger boats' prices range from $29,795 for the Z175 to $73,795 for the Z-521C Ranger Cup Comanche.
2. Aluminum Boats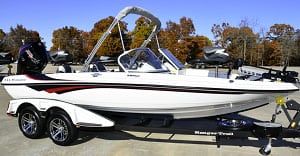 Like Ranger's fiberglass boats, the brand's aluminum fishing vessels are also perfect for bass, inshore, and multi-species fishing. Other boats can only hope to match Ranger's impeccable construction, superb performance, and proprietary Five Star advantage.
Interestingly, some bass anglers are debating about Ranger vs Triton aluminum boats. We consider the topic moot and academic because both brands are under the Bass Pro umbrella. These boats can cost from $20,595 for the RT178 to $31,195 for the RT198P.
3. Saltwater Boats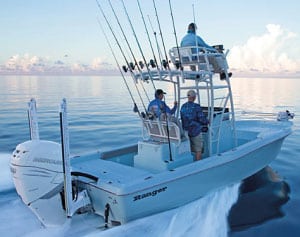 Although Ranger's Bay Series saltwater boats look "bland" alongside a Phoenix Pro XP Series, their performance and unmatched construction can withstand punishing swells. These watercraft can breeze across shallow waters like flat-bottom boats.
4. Pontoon Boats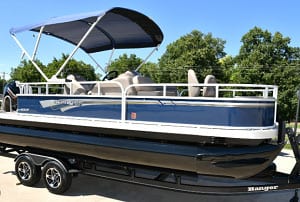 Ranger Boats offer three pontoon boat series across four categories – LS Series (luxury), Reata Serifes (cruise, fish, and fish 'n' cruise), and Classic Series (cruise and fish). You can also check the most appropriate Ranger boat models by year.
FAQs
When Forrest Wood sold Ranger Boats, and to who?
The answer to when and who bought Ranger Boats is more straightforward than some folks believe. Three owners assumed management control of Ranger Boats throughout the brand's history.
Forrest L. Wood first sold Ranger Boats to Dallas-based Thompson Co. in 1987. Minneapolis company Genmar Holding bought the brand in 1991 before Platinum Equity assumed the role in 2010 after the former filed for bankruptcy in 2009.
No one could have foretold when Bass Pro buys Ranger Boats from Platinum Equity LLC's Fishing Holdings. In December 2014, Bass Pro became the parent company of the venerable bass fishing boat brand.
How much did Bass Pro pay for Ranger Boats?
Although the bass fishing community knows what companies bought Ranger Boats, no one outside Bass Pro and Ranger Boats' previous owners knows how much the former paid to acquire Wood's brand in December 2014.
Other brands that Bass Pro own
When Bass Pro bought Fishing Holdings LLC from Platinum Equity in December 2014, it did not only buy Rangers Boats. Bass Pro Shops also acquired two other major bass boat manufacturers, Triton and Stratos.
Bass Pro is an outdoor merchandise retailer which acquired Cabela's retail brand in 2017 for $5.5 billion.
It also owns White River Marine Group, the manufacturer and distributor of leading brand names, such as Ranger, Tahoe, Nitro, Mako, Ascend, Regency, Triton, Sun Tracker, and, just recently, Hatteras Yachts (as of May 20, 2021).
Conclusion
Bass Pro Group LLC is the answer to the question, "who owns Ranger Boats?" Forrest and Nina Wood started Ranger Boats in 1968, and the brand changed hands thrice before finding its new home with Morris' Bass Pro.
The first change of ownership was in 1987, when Thompson Co. bought Ranger Boats. Genmar Holdings bought the brand in 1991 before Platinum Equity bagged Ranger Boats in 2010.
Today's partnership between an outdoor merchandise giant (Bass Pro) and a heritage-driven boat manufacturer (Ranger Boats) can only mean one thing – high-quality, high-performance boat options made more accessible and convenient for everyone.
Read more: Owners of Axis boats.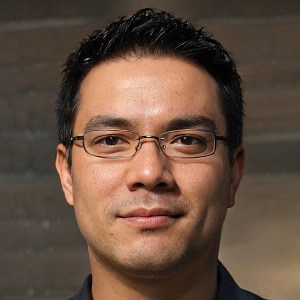 Ten years of enjoying countless trips on boats never made me love them any less! So I am here to put all those experiences into good use for other boaters who want to have a safe and fun trip with their friends and families.