The world' biggest ship is nothing less than a piece of nautical engineering marvel, being longer than the Petronas Towers and Empire State Building, and capable of carrying more than 200,000 tons of cargo. We're talking about the now-decommissioned 1,504-foot Seawise Giant.
We're sure you want to learn the juicy details of the most magnificent vessels on Earth. So, please read on.
Top 5 Biggest Ships in the World
If we consider a floating liquefied natural gas (FLNG) platform a ship, the biggest ship ever built would be Shell's Prelude at 1,601 feet long and 243 feet wide.
If you think we should only include the largest ship in the world still in service, we tip our hats to the 1,309-foot Ever Alot, capable of carrying 24,004 20-foot containers.
But how about the biggest passenger ship in the world? That accolade goes to Royal Caribbean International's 1,188-foot, 2,300-crew, and 6,988-passenger Wonder of the Seas.
Determining the world's biggest vessel isn't a walk in the park. It requires hours of collecting and analyzing technical data and other valuable information on the shipping world's watercraft collection.
Never fret. We did our part to bring you five of the world's huge boats.
1. Prelude FNLG
The Prelude FNLG isn't a real ship if we stick to the traditional definition of a large transport vessel. It's a floating storage platform where oil industry giant Shell produces, processes, and stores its hydrocarbon products before shipping them to world markets.
However, its design is typical of cargo vessels, making the Prelude FNLG the largest, heaviest, and longest ship to date.
The Samsung Heavy Industries-built ship features a double hull construction with a massive displacement of 600,000 tons when fully loaded and is moored at an 820-foot water depth.
The 300,000-gross-ton Prelude FNLG measures 1,601 feet from bow to stern, 243 feet from the port to the starboard side, and 344 feet from the keel to the topmost superstructure. The latter attribute makes the Prelude FNLG the world's tallest ship.
Laid down in 2012 and completed five years later, the Prelude FNLG features at least 260,000 tons of premium-quality steel. It allows the vessel to withstand Category 5 cyclones.
Industry experts say the world's heaviest ship can handle "one-in-10-millennia" storms, with 65-foot-tall waves and 185-MPH winds.
Capacity and Cargo Capabilities
Although it doesn't transport petroleum products like oil tankers, the Prelude FNLG can produce or process 110,000 barrels of oil-equivalent daily.
2. Seawise Giant
Most folks don't consider the Prelude FNLG a ship because it doesn't transport oil and only stays in one place. Hence, we offer the Seawise Giant ship in the Prelude's position as the largest vessel on earth.
The Sumitomo-built Seawise Giant first saw action in 1979. The Iraqi Air Force attacked and sunk the ship in shallow waters in 1988, allowing the company to rebuild the vessel until its decommissioning in 2009.
It's an ultra-large crude carrier that started as Oppama before being renamed Seawise Giant, Happy Giant, Jahre Viking, and Knock Nevis. Mont was her final name.
The 260,941-gross-ton Seawise Giant underwent jumboisation to increase its deadweight to 564,763 tons and an 80.74-foot draft. The ship's 646,642-ton maximum displacement makes it too heavy. Safely passing the English Channel's shallow sections proved challenging.
Although it's not the widest ship in the world (that distinction goes to the 407-foot-wide Pioneering Spirit), Seawise Giant's 225.07-foot beam is still noteworthy. It's 1,504 feet 1 inch long, making it longer than the Petronas Towers (1,483 feet).
This ship features two Mitsubishi V2M8 boilers delivering 50,000 horsepower, allowing the vessel to achieve a top speed of 16.5 knots. It has a massive 230-ton rudder and 50-ton propeller, making it a behemoth in the oceans.
Capacity and Cargo Capabilities
Seawise Giant has 339,500 square feet of deck space (equivalent to about six football fields) and 46 storage tanks capable of accommodating 4.1 million barrels of crude oil.
3. Ever Alot
Like the Prelude FNLG case, some argue that Seawise Giant doesn't deserve a spot on this list because it's no longer active (Priya Blue Industries scrapped the ship in 2009).
However, we're certain no one would argue against the Ever Alot being named as the world's largest container ship. This Hudong-Zhonghua-built vessel snatched the title from its sister ship, the Ever Ace, when the manufacturer delivered it to Evergreen Marine in 2022.
Transporting cargo across Asia and Europe, Ever Alot is the preferred vessel for sailors because the ship features many technological advances. Green Earth advocates also love the watercraft for its eco-friendly attributes.
The 236,228-gross-ton Panamanian-flagged Ever Alot has a deadweight of 241,000 tons and a draft of 55.77 feet. Although owned by a Taiwanese ship operator, this vessel will bear the flag of Panama.
You could put three football fields on the Ever Alot's 1,312 feet 4 inches by 203 feet 5 inches. It's a behemoth, making the Ever Alot one of the giant ships of the 21st century.
This container vessel is fuel-efficient yet surprisingly fast, thanks to its bulb-less bow design. Carbon emissions are also not an issue because the ship features advanced gas treatment technology. Energy-saving systems also improve the ship's overall eco-friendliness.
Capacity and Cargo Capabilities
Ever Alot beats its sister ship (Ever Ace) in cargo-carrying capabilities by a dozen 20-foot container equivalent units (TEUs) (24,004 vs. 23,992). For your information, it's the first vessel ever to cross the 24K TEU threshold.
It's worth noting that newer ships have eclipsed Ever Alot's cargo capabilities. Examples are the MSC Irina and MSC Loreto (24,346 TEUs), OOCL Spain (24,188 TEUs), and MSC Tessa and MSC Celestino Maresca (24,116 TEUs).
4. TI Class
The TI Class of ultra-large crude carriers (ULCC) is our bet for a Seawise Giant-like supertanker. Although it's not the tallest boat or ship on this list, the TI Class is wider than the Ever Alot by 19.6 feet.
Four ships comprise Tankers International's (TI) ULCC supertanker fleet, including the TI Europe, TI Asia, TI Africa, and TI Oceania. The vessels had previous names of Hellespont Tara, Hellespont Alhambra, Hellespont Metropolis, and Hellespont Fairfax, respectively.
These ships are extra-wide; they cannot pass through the Suez and Panama Canals unless they use their ballasts.
At full load, TI Class supertankers can displace 501,437 tons of water and stay afloat at a depth of 80.5 feet. It can reach a top speed of 16.5 knots, about as fast as Seawise Giant.
This class of supertankers measures 1,246 feet 9 inches from stern to bow and 223.1 feet from starboard to portside. The ships weigh 234,006 gross tons, with a deadweight tonnage of 441,893.
The four-ship class of supertankers features a 50,220-HP HSD-Sulzer 9RTA84T-D engine and state-of-the-art ballast tank technologies. The system gives the supertankers exceptional eco-friendliness and seaworthiness.
Capacity and Cargo Capabilities
Although TI Class supertankers cannot match Seawise Giant's 4.1-million-barrel capacity, hauling 3,166,353 barrels of crude oil in one go is an exceptional feat.
5. Wonder of the Seas
Heavier than the Ever Alot and TI Class, the Wonder of the Seas is the largest cruise ship on the planet. It's 305 feet longer, 117.5 feet wider, and 190,528 tons heavier than the RMS Titanic.
It's a floating city capable of cruising at a comfortable 22 knots. Not only that, but it has many stand-out features across 18 decks. The ship's ultra-modern exterior and impressive interior are a head-turner. Staterooms are luxurious and spacious, and guests will never grow bored with the dining options.
Onboard activities are endless, ensuring guests will have the best cruising experience in their lives. The ship has a 10-deck-high zipline, water park, skating rink, rock-climbing walls, and other amenities no other cruise ship can offer. It's a floating resort like no other.
Powered by three 27,000-horsepower, 20-megawatt ABB Azipot diesel-electric engines, the Wonder of the Seas is a floating powerhouse. This Oasis-class cruise ship also has four 5.5-megawatt Wartsila bow thrusters.
The Wonder of the Seas measures 210 feet across and 1,187 feet 10 inches lengthwise. It weighs 236,857 gross tons, and its 17,10-ton deadweight is the lightest on this list.
Like many Oasis-class cruise ships, the Wonder of the Seas features seven "neighborhoods," including Vitality Spa & Fitness, The Boardwalk, The Royal Promenade, Youth Zone, Central Park, Entertainment Place, and Pool & Sports Zone.
Capacity and Cargo Capabilities
This luxury cruise ship can accommodate a maximum of 6,988 passengers, served by its 2,369-member crew.
Comparison Chart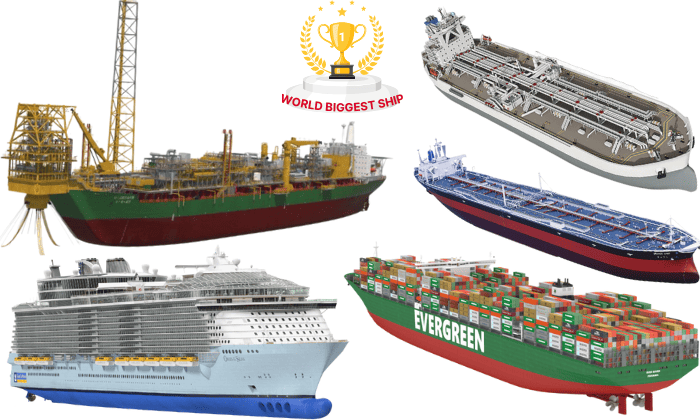 We took the liberty of summarizing the vessels shared in the following size comparison chart. You can refer to this table to quickly learn the different largest ships by size.
| | | | |
| --- | --- | --- | --- |
| Vessel Name | Length | Width | Weight |
| Prelude FNLG | 1,601 ft. | 243 ft. | 300,000 tons |
| Seawise Giant | 1,504 ft. 1 in. | 225.07 ft. | 260,941 tons |
| Ever Alot | 1,312 ft. 4 in. | 203.5 ft. | 236,228 tons |
| TI Class | 1,246 ft. 9 in. | 223.1 ft. | 234,006 tons |
| Wonder of the Seas | 1,187 ft. 10 in. | 210 ft. | 236,857 tons |
Conclusion
Shell's Prelude FNLG earns our nod as the world biggest ship. And if people complain it's not a "conventional" transport ship, we'll offer the Seawise Giant as a worthy replacement. If that doesn't satisfy your requirements, the Ever Alot should fit the bill.
The TI Class of ultra-large crude carriers can take the battle to Ever Alot, especially in width. Royal Caribbean also has a slot for its Wonder of the Seas floating resort city.
These vessels are a testament to humankind's strong desire to build better and bigger things.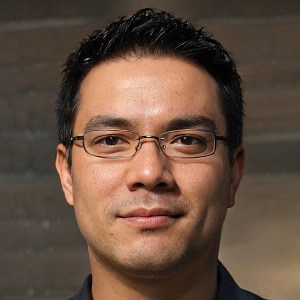 Ten years of enjoying countless trips on boats never made me love them any less! So I am here to put all those experiences into good use for other boaters who want to have a safe and fun trip with their friends and families.